https://orcid.org/0000-0002-9780-9062
2022
• Ce-hydroxamate metal–organic frameworks for photocatalytic H2 generation
Xuan Feng, Wenying Li, Lei Yang, Ting Song, Zhaoming Xia, Qiuxue Lai, Xuemei Zhou*, Hai Xiao* and Chong Liu* Chem. Commun., 2022, 58, 13503
• Mixed-matrix membranes based on novel hydroxamate metal–organic frameworks with two-dimensional layers for CO2/N2 separation
Xuan Feng, Zikang Qin, Qiuxue Lai, Zhiyuan Zhang, Zhen-Wu Shao, Wenlei Tang, Wenjing Wu, Zhongde Dai*, and Chong Liu* Sep. Purif. Technol., 2022, 305, 122476
• High-throughput virtual screening of metal-organic frameworks for xenon recovery from exhaled anesthetic gas mixture
Min Cheng, Shihui Wang, Zhiyuan Zhang, Xu Ji, Chong Liu*, Yiyang Dai, Yagu Dang, and Li Zhou* Chem. Eng. J., 2022, 451, 138218
• Machine Learning-Guided Identification of Coordination Polymer Ligands for Crystallizing Separation of Cs/Sr
Zhiyuan Zhang, Min Cheng, Xinyi Xiao, Kexin Bi, Ting Song, Kong-qiu Hu, Yiyang Dai, Li Zhou*, Chong Liu*, Xu Ji, and Wei-qun Shi. ACS Appl. Mater. Interfaces, 2022, 14, 33076
Featured as cover of Issue 29.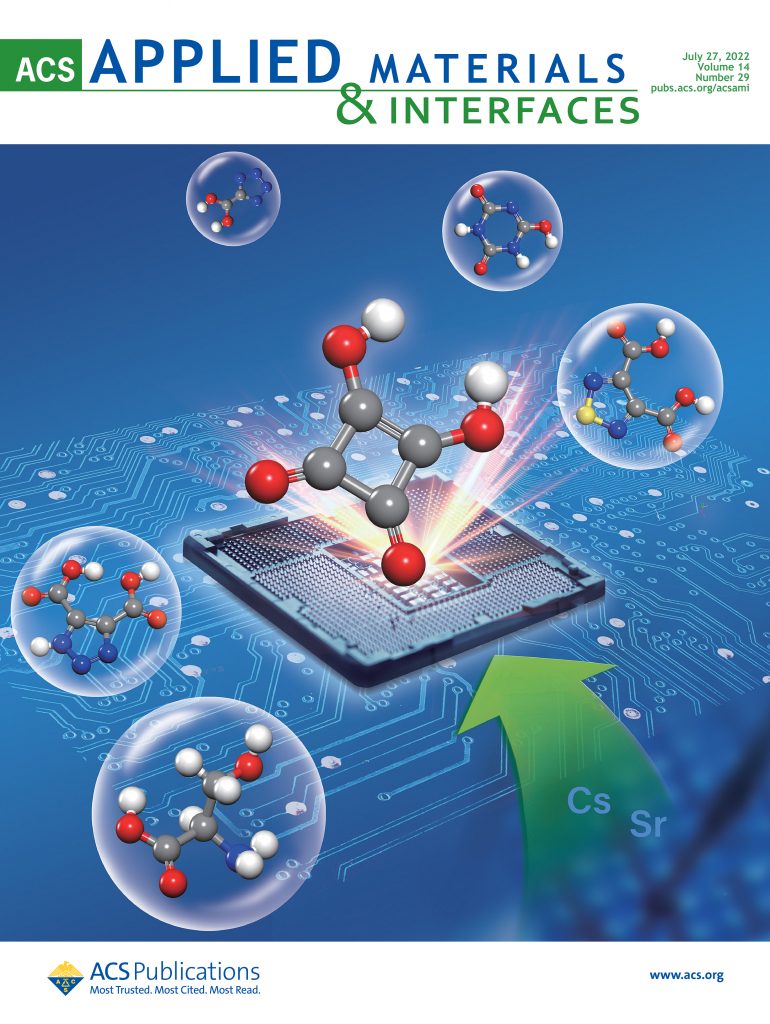 • High-throughput screening of metal–organic frameworks for hydrogen purification
Shihui Wang, Min Cheng, Lei Luo, Xu Ji, Chong Liu, Kexin Bi, and Li Zhou* Chem. Eng. J., 2022, 451, 138436
• In silico identification and synthesis of a multi-drug loaded MOF for treating tuberculosis
Abhinav P. Acharya, Kutay B. Sezginel, Hannah P. Gideon, Ashlee C. Greene, Harrison D. Lawson, Sahil Inamdar, Ying Tang, Amy J. Fraser, Kush V. Patel, Chong Liu, Nathaniel L. Rosi, Stephen Y. Chan, JoAnne L.Flynn, Christopher E. Wilmer, Steven R. Little J. Control. Release, 2022, 352, 242
• High-Throughput Computational Screening of Metal-Organic Frameworks for CH4/H2 Separation by Synergizing Machine Learning and Molecular Simulation
Shihui Wang, Xiaoyu Xue, Min Cheng, Shaochen Chen, Chong Liu, Li Zhou, Kexin Bi, and Xu Ji*. Acta Chimica Sinica, 2022, 80, 614
• Aquatic arsenic removal with a Zr-MOF constructed via in situ nitroso coupling
Ting Song, Xuan Feng, Chuer Bao, Qiuxue Lai, Zhehao Li, Wenlei Tang, Zhen-Wu Shao, Zhiyuan Zhang, Zhongde Dai, and Chong Liu*. Sep. Purif. Technol., 2022, 288, 120700
• Two-Dimensional Zr/Hf-Hydroxamate Metal-Organic Frameworks
Qiuxue Lai, Zhao-Qin Chu, Xinyi Xiao, Dejun Dai, Ting Song, Tian-Yi Luo, Wenlei Tang, Xuan Feng, Zhiyuan Zhang, Tao Li, Hai Xiao, Jing Su* and Chong Liu*. Chem. Commun., 2022, 58, 3601
Part of the themed collection Chemical Communications HOT Articles 2022
Featured as front cover of Issue 22.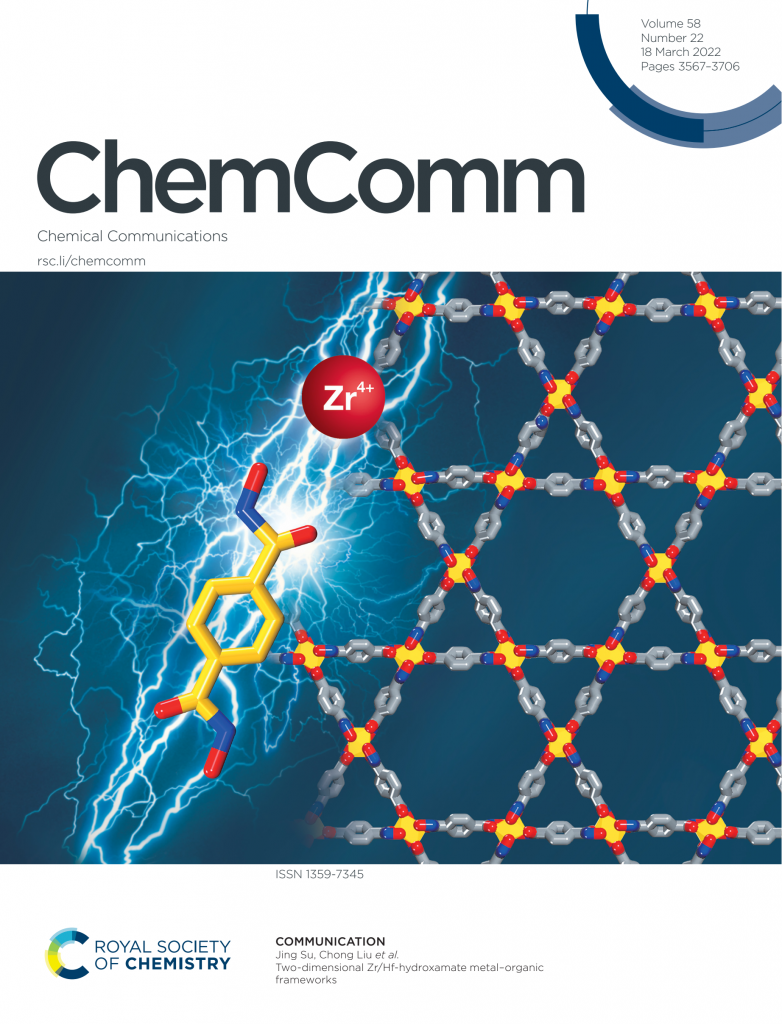 2021
• An fcu Th-MOF Constructed from In Situ Coupling of Monovalent Ligands
Ting Song, Wenlei Tang, Chuer Bao, Qiuxue Lai, Zhiyuan Zhang, Xuan Feng and Chong Liu*. Symmetry, 2021, 13, 1332

2020
• H2/CO2 separations in multicomponent metal-adeninate MOFs with multiple chemically distinct pore environments
Zachary M. Schulte, Yeon Hye Kwon, Yi Han, Chong Liu, Lin Li, Yahui Yang, Austin Gamble Jarvi, Sunil Saxena, Götz Veser, J. Karl Johnson, and Nathaniel L. Rosi. Chem. Sci., 2020,11, 12807
• Luminescence "Turn-On" Detection of Gossypol Using Ln3+-Based Metal–Organic Frameworks and Ln3+ Salts
Tian-Yi Luo, Prasenjit Das, David L. White, Chong Liu, Alexander Star, and Nathaniel L. Rosi.J. Am. Chem. Soc., 2020, 142, 2897

2019
• Au130−xAgx Nanoclusters with Non‐Metallicity: A Drum of Silver‐Rich Sites Enclosed in a Marks‐Decahedral Cage of Gold‐Rich Sites
Tatsuya Higaki, Chong Liu, David J. Morris, Guiying He, Tian‐Yi Luo, Matthew Y. Sfeir, Peng Zhang, Nathaniel L. Rosi, and Rongchao Jin. Angew. Chem. Int. Ed., 2019, 131, 18974
• Multivariate Stratified Metal-Organic Frameworks: Diversification Using Domain Building Blocks
Tian-Yi Luo, Chong Liu, Xing Yee Gan, Patrick F. Muldoon, Nathan A. Diemler, Jill E. Millstone, and Nathaniel L. Rosi. J. Am. Chem. Soc., 2019, 141, 2161

2018
• Near infrared excitation and emission in rare earth MOFs via encapsulation of organic dyes
Chong Liu, Svetlana V. Eliseeva, Tian-Yi Luo, Patrick F. Muldoon, Stéphane Petoud and Nathaniel L. Rosi. Chem. Sci., 2018, 9, 8099
• Total Structure Determination of Au16(S-Adm)12 and Cd1Au14(StBu)12 and Implications for the Structure of Au15(SR)13
Sha Yang, Shuang Chen, Lin Xiong, Chong Liu, Haizhu Yu, Shuxin Wang, Nathaniel L. Rosi, Yong Pei, and Manzhou Zhu. J. Am. Chem. Soc., 2018, 140, 10988
• Programmable Topology in New Families of Heterobimetallic Metal-Organic Frameworks
Patrick F. Muldoon, Chong Liu, Carson C. Miller, S. Benjamin Koby, Michael O'Keeffe, Tian-Yi Luo, and Nathaniel L. Rosi. J. Am. Chem. Soc., 2018, 140, 6194

2017
• Rare Earth pcu Metal-Organic Framework Platform Based on RE4(μ3-OH)4(COO)62+ Clusters: Rational Design, Directed Synthesis, and Deliberate Tuning of Excitation Wavelengths
Tian-Yi Luo, Chong Liu, Svetlana V. Eliseeva, Patrick Flynn Muldoon, Stephane Petoud, and Nathaniel L. Rosi. J. Am. Chem. Soc., 2017, 139, 9333
• Ternary Gradient Metal-Organic Frameworks
Chong Liu, and Nathaniel L. Rosi. Faraday Discuss., 2017, 201, 163
• Controlled 2D Assembly of Nickel-Seamed Hexameric Pyrogallol [4] arene Nanocapsules
Chen Zhang, Rahul S. Patil, Chong Liu, Charles L. Barnes, and Jerry L. Atwood. J. Am. Chem. Soc., 2017, 139, 2920
• Controlling Ag-Doping in [AgxAu25-x(SC6H11)18]– Nanoclusters, Cryogenic Optical, Electronic and Electrocatalytic Properties
Renxi Jin†, Shuo Zhao†, Chong Liu, Meng Zhou, Gihan Panapitiya, Yan Xing, Nathaniel L Rosi, James P Lewis, and Rongchao Jin. Nanoscale, 2017, 9, 19183
• Shuttling Single Metal Atom into and out of a Metal Nanoparticle
Shuxin Wang†, Hadi Abroshan†, Chong Liu, Tian-Yi Luo, Manzhou Zhu, Hyung J. Kim, Nathaniel L. Rosi, and Rongchao Jin. Nat. Commun., 2017, 8, 848
• Tailoring the Structure of 58-Electron Gold Nanoclusters: Au103S2(S-Nap)41 and Its Implications
Tatsuya Higaki, Chong Liu, Meng Zhou, Tian-Yi Luo, Nathaniel L Rosi, and Rongchao Jin. J. Am. Chem. Soc., 2017, 139, 9994
• Oxidation-Induced Transformation of 8-electron Gold Nanoclusters:[Au23(SR)16]− to [Au28(SR)20]0
Tatsuya Higaki, Chong Liu, Yuxiang Chen, Shuo Zhao, Chenjie Zeng, Renxi Jin, Shuxin Wang, Nathaniel L. Rosi, and Rongchao Jin. J. Phys. Chem. Lett., 2017, 8, 866

2016
• Establishing Porosity Gradients within Metal-Organic Frameworks using Partial Postsynthetic Ligand Exchange
Chong Liu, Chenjie Zeng, Tian-Yi Luo, Andrea David Merg, Rongchao Jin, and Nathaniel L. Rosi. J. Am. Chem. Soc., 2016, 138, 12045
• Peptide-Directed Assembly of Single-Helical Gold Nanoparticle Superstructures Exhibiting Intense Chiroptical Activity
Andrea David Merg, Jennifer C. Boatz, Abhishek Mandal, Gongpu Zhao, Soumitra Mokashi-Punekar, Chong Liu, Xianting Wang, Peijun Zhang, Patrick C. A. van der Wel, and Nathaniel L. Rosi. J. Am. Chem. Soc., 2016, 138, 13655
• Tailoring the Electronic and Catalytic Properties of Au25 Nanoclusters via Ligand Engineering
Gao Li, Hadi Abroshan, Chong Liu, Shuo Zhao, Zhimin Li, Yan Xie, Hyung J Kim, Nathaniel L. Rosi, and Rongchao Jin. ACS Nano, 2016, 10, 7998
• Atomic Structure of Self-Assembled Monolayer of Thiolates on a Tetragonal Au92 Nanocrystal
Chenjie Zeng, Chong Liu, Yuxiang Chen, Nathaniel L. Rosi, and Rongchao Jin. J. Am. Chem. Soc., 2016, 138, 8710
• Controlling the Atomic Structure of Au30 Nanocluster by a Ligand-Based Strategy
Tatsuya Higaki, Chong Liu, Chenjie Zeng, Renxi Jin, Yuxiang Chen, Nathaniel L. Rosi, and Rongchao Jin. Angew. Chem. Int. Ed., 2016, 55, 6694
• Isomerism in Au28(SR)20 Nanocluster and Stable Structures
Yuxiang Chen, Chong Liu, Qing Tang, Chenjie Zeng, Tatsuya Higaki, Anindita Das, De-en Jiang, Nathaniel L. Rosi, and Rongchao Jin. J. Am. Chem. Soc., 2016, 138, 1482

2015
• Orthogonal Ternary Functionalization of a Mesoporous Metal-Organic Framework via Sequential Postsynthetic Ligand Exchange
Chong Liu, Tian-Yi Luo, Evan S. Feura, Chen Zhang, and Nathaniel L. Rosi. J. Am. Chem. Soc., 2015, 137, 10508
• Gold Tetrahedra Coil up: Kekulé-like and Double Helical Superstructures
Chenjie Zeng†, Yuxiang Chen†, Chong Liu, Katsuyuki Nobusada, Nathaniel L. Rosi, and Rongchao Jin. Sci. Adv., 2015, 1, e1500425
• Crystal Structure of Barrel-Shaped Chiral Au130(p-MBT)50 Nanocluster
Yuxiang Chen, Chenjie Zeng, Chong Liu, Kristin Kirschbaum, Chakicherla Gayathri, Roberto R. Gil, Nathaniel L. Rosi, and Rongchao Jin. J. Am. Chem. Soc., 2015, 137, 10076
• Loading and Triggered Release of Cargo from Hollow Spherical Gold Nanoparticle Superstructures
Chen Zhang, Thomas Brinzer, Chong Liu, Sean Garrett-Roe, and Nathaniel L. Rosi. RSC Adv., 2015, 5, 76291
• Tri-icosahedral Gold Nanocluster [Au37(PPh3)10(SC2H4Ph)10X2]+: Linear Assembly of Icosahedral Building Blocks
Renxi Jin, Chong Liu, Shuo Zhao, Anindita Das, Hongzhu Xing, Chakicherla Gayathri, Yan Xing, Nathaniel L. Rosi, Roberto R. Gil, and Rongchao Jin. ACS Nano, 2015, 9, 8530
• Structure Determination of [Au18(SR)14]
Anindita Das, Chong Liu, Hee Young Byun, Katsuyuki Nobusada, Shuo Zhao, Nathaniel Rosi, and Rongchao Jin. Angew. Chem. Int. Ed., 2015, 54, 3140

2014
• Gold–Thiolate Ring as a Protecting Motif in the Au20(SR)16 Nanocluster and Implications
Chenjie Zeng, Chong Liu, Yuxiang Chen, Nathaniel L. Rosi, and Rongchao Jin. J. Am. Chem. Soc., 2014, 136, 11922
• Cyclopentanethiolato-Protected Au36(SC5H9)24 Nanocluster: Crystal Structure and Implications for the Steric and Electronic Effects of Ligand
Anindita Das, Chong Liu, Chenjie Zeng, Gao Li, Tao Li, Nathaniel L. Rosi, and Rongchao Jin, J. Phys. Chem. A, 2014, 118, 8264

2012
• A Covalently Reactive Group-Modified Peptide that Specifically Reacts with Lysine16 in Amyloid β
Jing-Wen Ma, Lei Zhao, De-Sheng Zhao, Qian Liu, Chong Liu, Wei-Hui Wu, Yong- Xiang Chen, Yu-Fen Zhao, Yan-Mei Li, Chem. Commun., 2012, 48, 10565
• Strain-Promoted "Click" Modification of a Mesoporous Metal-Organic Framework
Chong Liu, Tao Li, and Nathaniel L. Rosi, J. Am. Chem. Soc., 2012, 134, 18886